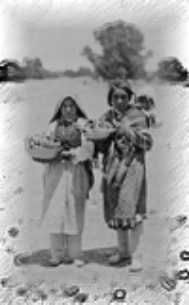 Welcome to Isleta Tribal Court
The Isleta Tribal Court is one of two courts within the Judicial Branch of the Pueblo of Isleta tribal government.  As a court of general jurisdiction Isleta Tribal Court hears many types of cases including but not limited to traffic, criminal, civil matters including probate, children and families in need of services, custody, child support, and civil disputes.  Isleta Tribal Court does not hear divorce cases.  Isleta Tribal Court has criminal jurisdiction over Indians enrolled in a federally-recognized tribe when the offense is committed within the boundaries of the Isleta Pueblo Reservation.
Court staff includes: the Chief Judge, two Associate Judges, a Court Administrator, a Chief Court Clerk, three Associate Court Clerks, two Probation Officers, a Community Service Work Supervisor, and a Bailiff. Court staff is prohibited from giving legal advice to any party.  A list of attorneys and advocates licensed to practice in the Pueblo of Isleta Court is available upon request.
TRIBAL COURT MISSION STATEMENT
To provide an effective administration of fair justice and service for the benefit of the tribal community by enforcing public safety and accountability while upholding trust, professionalism, and integrity.
The Pueblo of Isleta also has an Appellate Court which is separate from the lower court that reviews the appeals filed by parties.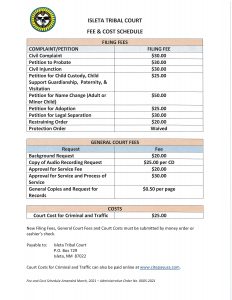 Isleta Tribal Court Fee & Cost Schedule
Contact Us:
Probation Officers:
Oscar Garcia: (505) 869-9701
Community Service Work Supervisor:
(505) 869-9031
Public Defender:
(505) 869-9825
Prosecutor Services:
(505) 869-9710
Victim Advocate Services:
(505) 869-9838
To view the published regulations and ordinances by the Isleta Tribal Council click the button below.
Hours of Operation:
Monday – Friday
8:00 a.m. to 4:30 p.m
Address:
Tribal Services Complex, Building "A"
3950 Highway 47
Albuquerque, NM 87105
Tribal Court Phone Number:
(505) 869-9699
Tribal Court Fax Number:
(505) 869-9747

Closed Federal and Tribal Administration Holidays