WIC-Woman Infants & Children
Welcome to the Pueblo of Isleta WIC Nutrition Program
Growing Healthy Families
Good Nutrition, starting with pregnancy, provides the best possible start for babies to grow up healthy and strong
What is WIC?
WIC is a free program for Women, Infants, and Children that helps families who have nutritional needs. WIC prevents health conditions caused by poor nutrition. WIC screens potential participants to see if they have nutritional needs.  If they do, WIC provides special supplemental food for their families. The U.S. Department of Agriculture funds the program. WIC is a service for low-income families, but it is not a welfare program. Most WIC participants work, yet are still able to qualify for WIC services based on their incomes.
Benefits of WIC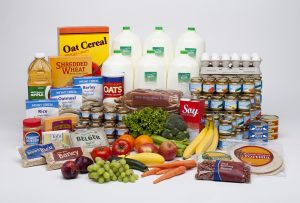 WIC participants receive:
Free health and nutrition screening

Supplemental foods for nutrition.  Members receive the food as long as they are eligible.
Free nutrition education
WIC can also refer you to clinics to get immunizations and medical for children

Breastfeeding support
Peer Counseling Program & Breastfeeding Moms:
Peer Counselors are another benefit of being on WIC.  They are women who have breastfed their babies and are trained to help other women learn to breastfeed.  They work with new moms one-on-one.  They also provide support at the WIC office where you can share your stories with other moms and find solutions to problems.
Breast feeding moms may receive more foods from WIC.  The more you breastfeed, the more food choices you receive.  In addition to other foods, you may also receive whole grains, baby foods and more fresh produce.
​If women do not choose to breastfeed, WIC provides infant formula.
Answer yes to all four of these requirements to be eligible.  You must:
Be a pregnant, breastfeeding or postpartum woman, an infant or a child under 5 years old
Be a resident of New Mexico
Have a nutritional need (determined at your first WIC appointment)
Fall into the WIC income guidelines
How to Apply for WIC
Call for a WIC appointment, (505) 869-2662. Bring specific information to apply for WIC:
Proof of identity for all applicants such as driver's license, birth certificate, or Medicaid card.
Proof of residency such as a recent utility bill or lease with your street address on it.
Proof of income such as a paystub or income tax form for everyone in the household.  Or you can use proof of enrollment in TANF, SNAP (food stamps) or Medicaid, which automatically makes one income eligible for WIC.
WIC is an equal opportunity program.  The program is operated in accordance with the US department of Agriculture policy which prohibits discrimination on the basis of race, color, sex, age, disability, religion, or national origin.
Important Information for WIC Participants due to COVID-19
Pueblo of Isleta WIC is open for business with consideration of COVID-19 social distancing.
Please call us @ #505-869-2662 to determine WIC eligibility or get current WIC food benefits.
Isleta Temporarily Approved COVID-19 Food List:
Starting April 15th, Pueblo of Isleta has temporarily added some additional food options to help you shop during COVID-19.
This list can be found by clicking here
Contact Us
4 Sagebrush Street
Albuquerque, NM 87105