Announcements/Upcoming Events
Announcement
November 16/2021

Due to the increase of COVID cases in our community, the Plastic Awareness Campaign has been postponed until further notice. Keep a look out for updates!
Announcement
October 05/2021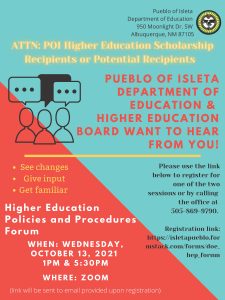 Pueblo of Isleta Current Higher Education Policies and Procedures
Higher Education Program General Policies and Procedures – Draft
Announcement
August 27, 2021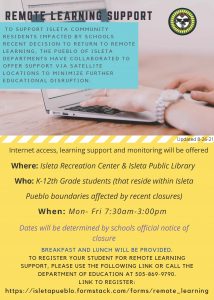 Please use link below to register:
https://isletapueblo.formstack.com/forms/remote_learning
Announcement
July 24, 2021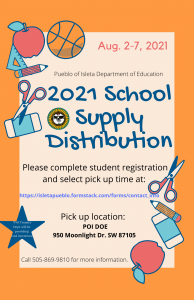 Please use link below to register:
https://isletapueblo.formstack.com/forms/contact_info
Announcement
July 13, 2021

Please use link below flyer to request your device.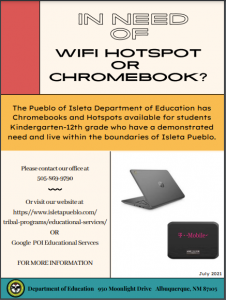 https://isletapueblo.formstack.com/forms/techrequest
Announcement
Posted 05/11/21
The Department of Education is happy to share an opportunity to learn about more about CNM and CNM Ingenuity. Below find the digital "catalog" of programs offered through CNM Ingenuity to include, but not limited to: CDL Training, Electric Lineworker Pre –Apprentice Program, Deep Dive Fullstack Web Development, Deep Dive Digital Media, Deep Dive Coding and Business Leadership Academy.
If you would like to learn more about CNM Ingenuity please fill out the link below to participate in an information session with CNM
       https://isletapueblo.formstack.com/forms/cnm_ingenuity
Wednesday, May 26 @ noon and 4pm
Wednesday, June 2 @ noon and 4 pm
Sessions will be held based on interest.
Please call the office at 505-869-9790 if you are unable to register for the session below.
CNM Ingenuity opportunities: https://drive.google.com/file/d/1aIkBI2Hl5VwjBgD_0n_r8etTt1kMDtFk/view?usp=sharing
C:\\Users\\Charlene.Lucero\\Documents\\Smaller CNMI Program Binder.pdf
Many of the CNM Ingenuity classes are approved for funding through WIOA. Click here for more information.
You may also visit the CNM Ingenuity website by clicking here.
Announcement:
Higher Education
Posted 03/08/2021
 The online application for the upcoming academic year is now available and accessible through our website.
Applications for the Summer 2021 term will be accepted until 11:59pm April 1st.
Fall and Full Academic Year (Fall 2021 & Spring 2022) will be accepted until 11:59pm July 1st.
Spring term (Spring 2022) applications will be accepted until 11:59pm November 1st.
If you need assistance filling out the online application, please contact our office to make an appointment. It is your responsibility to meet the absolute deadlines. All submitted forms are timestamped as they are received by our online application system, Formstack. We look forward to supporting you in your educational and career endeavors.
Announcement:
Posted 02/25/2021
Pueblo of Isleta 2020 & Spring 2021 College Graduates
We would like to celebrate you and your success. Please fill out a quick online form to share your accomplishments. Use the link below to share your information:
https://isletapueblo.formstack.com/forms/2020_21_college_graduates
For more information you may also call the Department of Education at (505) 869-9790