Isleta Library Programs & Services
Homework Help Program
Provides homework assistance for grades Kindergarten through 12th grade at no cost and available each day anytime afterschool.  Library Staff is on site to help tutor and supervise on any subject as well as assist with computer skills and literacy skills.  Students are required to finish any homework or do 30 minutes of reading before allowed to log on to computers or play the Xbox 360 and Wii U.  An incentive snack is also provided to students who finish their homework or reading.  Please review our policies which indicate important topics such as pick up time of students.  Parents or guardians must fill out an emergency contact form in case of closures or emergencies at the Library.  Register your child today.  All documents are required for this program.
Click on form name to download: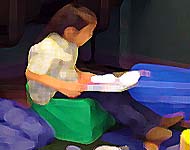 Registration Form
Homework Policies
General Library Policies
Computer Agreement
Incentive Programs
Occur every other month which our after school program students are encouraged to participate and earn required points to attend a field trip. Past field trips were to Itz, Hinkle Family Fun Center, Balloon Fiesta, Natural History Museum, Paintball park, Cliff's and many more. Points are earned by completing homework or reading 30 minutes. For the most current incentive program, please call the library for more information.
Summer Reading Program
Held annually at the Library. Generally a six week program, begins after the last school for summer and ends approximately a week before the school year begins.
Each year the program is constructed around a different theme. Past themes have been focused around Isleta culture, cultures around the world, and theater. Students are required to read for 20 minutes daily and fill out a reading log. The Toddler Program has a story will be read to them.
There are two sessions for two age groups:
Toddler Program children from ages 3 to 6 and attend from 9:00am-12:00pm.
Youth Program ages 7 to 18 and attend from 1:00pm to 4:30pm.
Each week the students learn, create, and engage in an activity based upon the topic of the week. Various field trips are scheduled sporadically throughout the program. Other acctivities include a Book Report Challenge with opportunities to win prizes. Our prizes are selected by the students which have iincluded items such as a 32″ HD TV, Nook Tablet, iPod Touch, Nintendo DSi, and a digital camera, etc.
Summer Lunch Program
This past year the library has collaborated with the Bernalillo County to provide free sack lunches for students ages 1 to 18. This is for students throughout the community. For those students who are in the program, Toddlers receive their lunch after the program is over and the Youth receive their lunch before their program time begins. Our annual Summer Program is highly anticipated each year. We have limited space; therefore we only accept the first 20 toddlers and the first 30 youth participants. These spaces are filled quickly, so please be aware of registration dates. For more information about our Rules and Policies please contact us.